---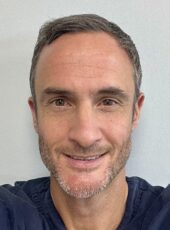 Dr. Rodolphe Martin
Dental surgeon
Lodève (France)
---
Who am I ?
Dental surgeon, qualified in 1999, passionate about digital equipment and the ergonomics of sharing digital flows. User of the Cerec Dentsply Sirona system since 2008.
My Rayplicker experience
I have been using the Rayplicker solution for 3 years. It is a solution that I use several times a day, for each reconstruction of fixed prosthesis but also for each creation of a removable prosthesis and each bleaching treatment.
Integration into my daily workflow
Regarding the integration of the Rayplicker system into my workflow, my assistant systematically attaches the Rayplicker shade file to the impression file (DXD or STL) when i place an order to my dental lab on the cloud platform DSCore from Dentsply Sirona.
During my bleaching treatments, I do a first shade scan on day 0 then day 28 then day 56 and I use the comparison tool on day 28 and day 56 to motivate my patient and confirm the effectiveness of the treatment and its usefulness.
Briefly, what does the Rayplicker solution do for me?
For me this is all the advantage of a digital file. This is the assurance of accurate, complete and reproducible information. It is therefore a time saver and an important communication tool with my dental lab. With its functionality allowing comparisons, this tool allows me to prove the effectiveness of my bleaching treatments and to create real complicity and motivation with my patients. Rayplicker allows me to avoid any error in interpreting the information. Despite everything, there is a learning curve for the practitioner and the lab.