Rayplicker Handy
Rayplicker Cobra
Use
Disinfection and sterilization procedures
In order to carry out the disinfection and sterilization of your Rayplicker Cobra, be sure to follow the good practices indicated below in order not to damage the device.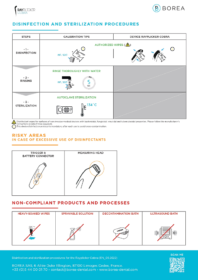 pdf
Updated on 22nd November 2022
Disinfection and sterilization procedures Rayplicker Cobra
Use
WHY THE VIDEO STREAM DOES NOT APPEAR ON MY COMPUTER SCREEN?
In order to take a shade, make sure that the following points are validated:
Your device must be light on and in video acquisition mode.
The Rayplicker Vision must be connected and synchronized to the Cobra.
The video stream must be in "activated" mode in the settings of your Cobra device from the Rayplicker Vision software
The current user selected from the Cobra (from the Cobra wifi settings) must be the correct user.
If, despite this, the problem persists, there may be a network security problem (port opening, firewall, etc.)
Here are network technical details (intended for network administrators):
Communication Cobra:
Protocols:

TCP (ports: 6050/6051)
UDP (ports: 6050/6051)
Stream Cobra:
Protocols (Note that the protocols below are used for RTP [Real-Time Protocol] and RTSP [Real-Time Streaming Protocol]):

TCP (port: 1234)
UDP (port: 1234)
Attention: Firewall exception must be set for Rayplicker Vision application otherwise Cobra streaming cannot be played
Upload/download to/from Cobra device:
Rayplicker Software
old version