---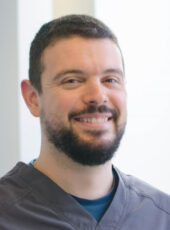 Dr. Edouard Lanoiselée
Dental surgeon
Nozay, France
---
Graduate of the Faculty of Dental Surgery of Nantes in 2008, I am working in Nozay (France) within an office of 4 doctors.
I am a Rayplicker user since September 2018, I systematically use Rayplicker for anterior restorations addressed to dental prosthetics laboratory (incisor to premolar tooth), and for layering composites. From time to time, I use it for posterior restorations, depending on the considered restoration type.
The Rayplicker solution fit perfectly in my workflow, the device being always close to hand. Recording only takes a few seconds, just like the creation of the production file which is quite complete. It is sent at the same time as my optical impressions to the laboratory through the cloud system. Thereby, I can check if my dental technician has seen it and I can contact him to discuss the case. Archiving is also an advantage since it enables to reproduce the information during the realization of new restorations and optimize the management of treatments.
Interactions with my prosthetist are smoother as we can talk about cases thanks to the simultaneous display on the software. Also, we are able to analyse beforehand complex cases and maintain or eliminate some specific features (cracks, white marks…). The production file is very detailed, it gives a lot of information on essential parameters such as stump shade or level of stratification desired. Finally, the dental technician can interact on the production file by making corrections and changing shade guide in order to adapt it to ceramicist habits.
The company BOREA is dynamic and is attentive to dental surgeons requests. Rayplicker's innovations and software suite are real advantages for our dental offices, that is why I highly recommend Rayplicker !