Rayplicker Handy
Digital shade taking by spectrophotometry accessible to all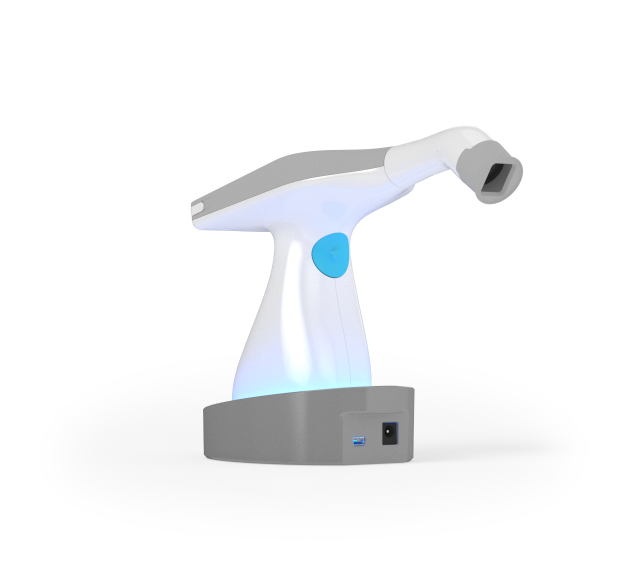 Advantages
The Rayplicker Handy is an innovation that meets the current requirements of cosmetic dentistry. This portable spectrophotometer offers a fast, reliable, ergonomic and complete turnkey solution for the perfect and traceable production of a dental prosthesis.
Protected by several patents filed in 2015, 2016 and 2018, Rayplicker Handy makes it possible to obtain, in a single acquisition, ultra-precise color maps (brightness, hue, saturation) and complete translucency of a tooth.
By its ease of use and its performance, Rayplicker Handy has become a must have in the dental practice.
Technical characteristics
Spectrophotometer : measuring range 400-700 nm
Screen : touch screen
CMOS sensor : 400x400 px
Resolution : 320 x 240 NTSC
Battery : Li-Po 3,7 V 2200 mAh
Internal memory : 40 shade acquisitions
Dimensions of the measuring head in mm : L. 76 / Diameter ⌀ : 25
Dimensions of the handpiece in mm : L. 210 x l. 75 x H.155
Dimensions of the docking station in mm : L.133 x l. 101 x. H.43
Handpice weight : 390 g
Docking station weight : 340 g
Connection : 1 USB 2.0 output
Charger : 5V 1Ah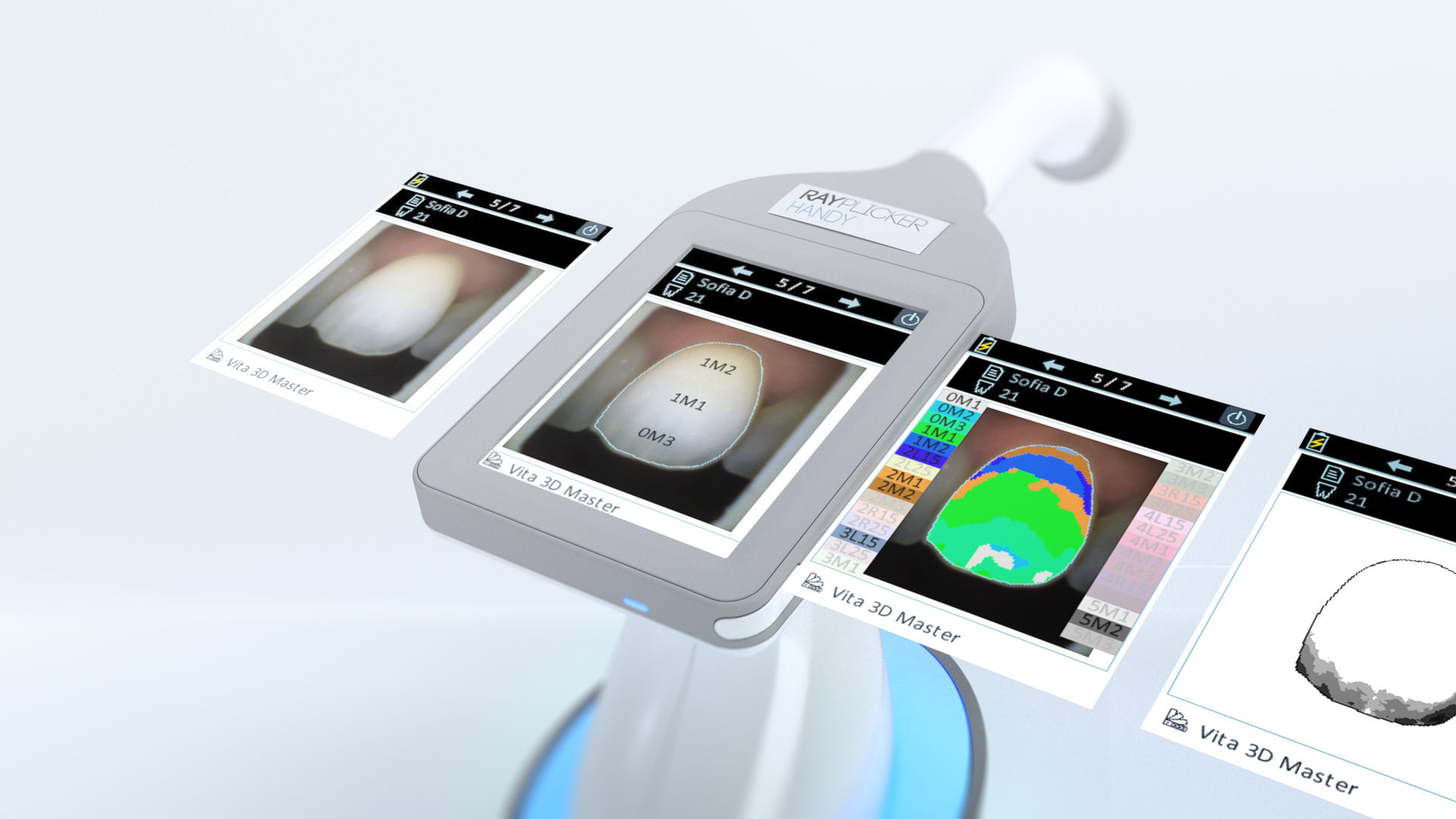 0.7s
spectral analysis time
Documents
Brochure Rayplicker Handy - Vision - Borea Connect - 8 pages (English)
6 MB
Download
Pack contents
1 Rayplicker Handy spectrophotometer
1 charging / transfer docking station
6 calibration tips (sterilizable)
1 charger and its adapters
1 USB cable
1 quick start guide
1 microfiber wipe
Disinfection and sterilization procedures
Free access to Rayplicker Vision software and Borea Connect (practice and laboratories)
Rayplicker Handy is the turnkey solution for your practice or laboratory!
Any question ?
Use
CAN I VIEW THE REGISTERED SHADES ON MY RAYPLICKER HANDY DEVICE?
To view the registered shades on your device, click on the "magnifying glass" icon from the home screen. Use the arrows in the upper band to navigate and view the different recorded shade takings. For information, you can register up to 40 files into the device. Once transferred to the Rayplicker Vision software, a file is automatically deleted from the device memory.
Use
IS MY RAYPLICKER HANDY DEVICE INFLUENCED BY THE EXTERNAL ENVIRONMENT?
No, the Rayplicker Handy device is not influenced by the external environment thanks to the calibration tip positioned at the top of the measuring head.
However, if the positioning of this tip is too far from the reference tooth, it no longer acts as a darkroom and the outside light will interfere in the shade taking. It is essential that the grey calibration tip remains in contact with the adjacent teeth and the gingiva.
If a retractor is used (to get access to posterior teeth for example), it is recommended to take the shade in a low light environment. We advise you to follow the following recommendations:
Remove the dental operating light from the patient's mouth or turn it off,
Your patient should have his back to the window in case of direct sun exposure.
Use
HOW CAN I MODIFY THE REFERENCE SHADE GUIDE ON MY RAYPLICKER HANDY DEVICE?
To configure your Rayplicker Handy device on another reference shade guide, connect your device to the computer by positioning it on its docking station and then connect it by USB.
The device must be turned on and on the home screen. From your Rayplicker software, click on settings / device / change device shade guide.
Select your device, then select the shade guide of your choice and click on configure.